Click here for availability of Appointments.
Please call the studio to book on 01702 478 924between 9:30 and 13:30, Mon-Fri or leave a message and we will call you back.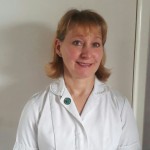 with Clare Hudson
Neuro Skeletal Re-alignment Therapy (NSRT) is a  wonderful, relaxing and gentle treatment for pain, limited movement associated with injury, misalignment  and bad posture.  A light pressure is applied to specific nerve points to stimulate the muscles to return to their optimum position,  so that 'wear   and tear' is reduced and tensions and pain disappear.
We have a high success rate for migraines, whiplash, sciatica, disc problems, scoliosis, sports injuries,  general back pain, arthritis management , etc.   Many people with neurological conditions such as MS, Parkinson's, ME,  have also benefitted  greatly from regular  NSRT treatments.  For further information see…   www.neuroskeletal.org
You will need to lay on the therapy couch for up to an hour.   Only shoes need be removed.  A course of 3-4 treatments is recommended to achieve the best results.
1 hour  = £40