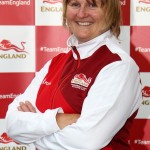 My yoga journey began because I wanted to improve my surfing and it seemed quite a few surfers benefitted from yoga! As a physiotherapist I found a natural interest in the physical practice and the breathing (pranayama) practices. After several years of Ashtanga yoga I also started more gentle yoga practices and suddenly found my body changing in many ways.
I decided to enrol on the BWY (British Wheel of Yoga) Foundation course which I attended with Tara Fraser – an inspirational tutor. During the 6 months of this course I began to feel and understand the more subtle changes that yoga can bring, particularly a calming of my 'monkey' mind.
I then decided to enrol onto the full 3 year BWY teacher training programme of which I am I am due to qualify in December. I have been practising as a student teacher by covering classes for some of our Shambala teachers, teaching my own class on Friday evenings and teaching international athletes as they enjoy yoga as a form of recovery from their very strong training schedules.
My understanding of yoga comes from learning about my own practice which has introduced an esoteric/psychological aspect to my scientific physiotherapy mind. I am enjoying looking at the growing amount of scientific studies that are now beginning to show the benefits of yoga practice – there is plenty more to learn…….