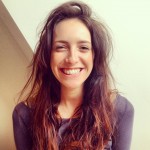 Jo was 16 when she began her yoga journey in India. She was captivated by the focus and strength of the Indian men and women as they demonstrated their practice. The sound of their collective breathing and the grace of the movement ignited a fire in her belly, beginning a lifelong devotion to the practice. 12 years later, and teaching traditional Ashtanga yoga has become Jo's lifework. Within that time she completed training with The British Wheel of Yoga and teacher training with Yoga Alliance.
Jo actively seeks to improve her teaching and through this lifelong mission she has had the honor of studying under inspirational Yogi's such as Sharath Jois, David Swenson, Kino MacGregor and Danny Paradise. Jo believes that in order to be a better teacher, she must be a better student. She steps onto her own mat 6 days a week and attends the Mysore program under the teaching of Ursula Scott in London. As Jo's practice evolves, so does her students.
Jo teaches with joy for her craft and compassion for her students. She seeks to provide others with the tools to develop their own personal practice so that their yoga journey can deliver lifelong physical, mental and spiritual health.
Follow Jo's journey on instagram: @jojoyoga