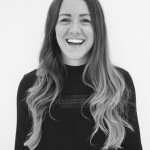 I found yoga when trying to 'un-do' or counterbalance my constant on the go and highly intense way of life. I've always found it hard to relax and I found the only way I could really slow down was through the practice of yoga. Yoga really stepped up for me when I went through one of the most stressful periods of my life, I realised it was a life tool I could not live without. This led me to study a 360-hour British Wheel of Yoga certified two-year teacher training programme in Hatha yoga at Triyoga in London where I studied with some extremely experienced and knowledgeable asana, philosophy and anatomy teachers.
I truly believe in the philosophy and meditation aspect of the practice and since going from a doer, I am using those tools in my own life to become more so a human being, to go inward and connect with my inner wisdom (it's a daily practice for me). I practice Tantra meditation and I am still diving deep into the aspects of Tantra in order to learn, experience and integrate these modalities into my own practice so that I am well placed to teach my students. I find I teach best when I teach from experience! I was drawn to Hatha yoga because of the integrity it brings to the practice of asana. I love a vast array of yoga practices including Ashtanga and Yin, but for me Hatha will always be my foundation.
If asked to describe how I teach in 30-seconds I would say I teach yoga from the heart, with integrity and with clear, safe & succinct instructions that inspire the student to self-exploration, body awareness and a wholehearted self-reflection practice. My Hatha classes start with meditation and pranayama followed by warm-up postures, standing and seated asanas and a relaxing savasana to finish, with postures being held a little bit longer than the usual so that we can explore the technical aspects and effects of asana internally.
As well as constantly expanding my yoga knowledge, I also practice as a nutritional therapist with a focus on gut and digestive issues, autoimmunity, women's hormones and conception/fertility. I feel that these two holistic health modalities go hand in hand, I find making dietary changes is easier, when you aren't so stressed!