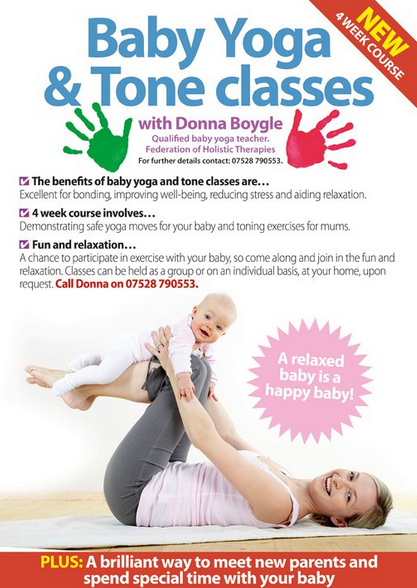 Getting back into physical shape after giving birth can be hard work. Traditional exercise classes are not always possible because there is often no one to look after your new little one.
Yoga is a wonderful way for Mum to regain abdominal muscle tone but it can also be great fun for babies.
Baby Yoga and Tone classes provide an opportunity to participate in exercise together with your baby.
It's excellent for bonding, as well as improving well being, reducing stress and aiding relaxation.
Donna Boyle has developed a four week course which will demonstrate safe yoga moves for your baby as well as providing toning exercises for Mum.
Donna will be hosting two 4-week courses at Shambhala Studios.
The first course starts on Thursday 22nd September for four weeks and the second begins on Thursday 27th October. The hour-long sessions are from 1.45pm to 2.45pm and cost £40 per four week course.
Call Donna for more details on 07528790553