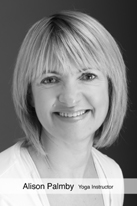 " Yoga is a  light, which once lit, will never dim. The more you practice the brighter the flame"
B.K.S Iyengar
I first discovered yoga in the early nineties as holistic healing system for stress. For my first class I was dragged along by a well meaning friend to a Hatha Yoga class. I arrived in the class underweight, suffering from insomnia, panic attacks and with no idea what to expect. During that class something  happened on a very subtle level, as we were guided carefully through a series of asanas linking conscious movement with breath awareness, I changed. That momentary glimpse into Hatha Yoga created a desire to know more. I started attending classes regularly. At the same time I also became interested in other complimentary therapies and studied and gained diplomas in Anatomy and Physiology, Reflexology and Reiki.
At first being new to yoga and flexible in lower back I gravitated towards more physical practices and in addition to Hatha, I explored other practices such as Ashtanga and Iyengar styles of teaching. The competitive yang side of my nature looked for the goal of strength, flexibility and being able to hold the king of asana Sirsasana headstand. However,  on reaching the headstand my interest in the physicality of yoga began to diminish and I started looking at other therapeutic styles of yoga. The discovery T.K.V. Desickachar ' The heart of Yoga' sent on the valuable direction of enrolling in a BWY teaching training course and I started to teach yoga.
Since gaining my BWY Diploma I have been fortunate enough to teach  yoga to a variety of people.  I have worked in schools teaching both children and teachers. I have taught  adults of all ages in good and poor health. By far my most valuable experience to date was teaching yoga to teenagers with cancer.  As a teacher I have gained the insight and belief that yoga is for everyone.
About 3 years ago I discovered Yin yoga as a beautiful complimentary practice to my existing active asana practice. The passive quiet yoga allowed me to rethink what asana is about. Yin for me marries mediation and asana, pranayama to a much deeper level.  It allowed me to sit in the pure essence of awareness and yin became the tool that enabled me sit and meditate. Two years ago I completed and Yin Intensive teaching training workshop with Sarah Powers and now I teach both Yin and Mindfulness.
I now combine Yin and Yang yoga with pranayama and meditation practices in my daily life through my personal and teaching practices.