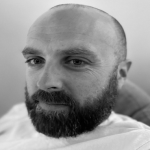 PHYSIOTHERAPY
Alastair Bennetto
Call Alastair to book:
 07575 213627
Performance Matters Physiotherapy
We are a new, Leigh-on-Sea based physiotherapy service who help people frustrated by pain and injury to recover quicker by providing them with tailored treatment and exercise programmes that help them to get back to peak performance so they can live their lives to the full.
Our website www.pmphysio.co.uk is up and running with more information about our approach and how we can help you get back to performing at your best, whatever that means to you.
We believe that no one should have to carry on in life with pain and that your performance matters!
Alastair Bennetto Lead Physio
Alastair has been a physiotherapist for over 10 years having graduated from the University of East London in 2013 and has gained a wealth of professional experience in both NHS and private practice In London and Southend.
He set up Performance Matters Physiotherapy because, as an active individual with a busy family life, he understands the frustration when pain and injury prevent you from enjoying the things you love. He firmly believes people should be able to live their lives pain free and to the full and, with Performance Matters Physiotherapy, hopes to be able to help guide as many people as possible from being frustrated and in pain, back to feeling strong, confident and able to perform at their best!
If you would like to know more about how the team at Performance Matters Physiotherapy can help, visit the website www.pmphysio.co.uk or call Alastair on 07575 213627.