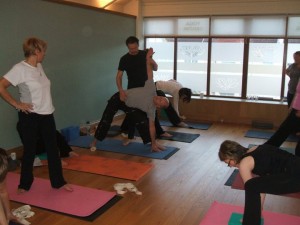 In a workshop that was sold out within weeks of being advertised, Howard Napper helped us to unlock the mysteries of stress and longevity through yoga. The secret to aging has eluded alchemists and scientists since the dawn of mankind but recently one thing has become very clear, the way in which we age has more to do with how we live our lives, rather than either our age or the genes we inherit.
In this workshop, Howard Napper set out to help us learn how we can address the negative effects of stress through yoga – not only on a day to day basis but also in the ways it affects the aging process and even how long we are likely to live.
In recent years, Howard's open and knowledgeable approach to yoga has enabled him to reach out beyond its traditional confines to address some of the fundamental concerns of our time.
He is one of the most ground-breaking yoga teachers in the UK, has sold over 3.5 millino yoga dvds in collaborations with well-known brands such as Kellogg's Special K, GMTV, Boots and W H Smith. He also co-authored the best-selling book 'Pilates and Yoga' and has written for a number of leading magazines.
He also hosted a series of yoga shows for television called 'Simply Yoga with Howard Napper' on ITV2.

I should also mention that he recently produced a best-selling app for the iPhone on stress called the 'dStress Pill' and I can thoroughly recommend it – a five minute and ten minute guided meditation focusing on breathing. These can be used pretty much anywhere so long as you have your headphones. I have used it several times after a stressful day when I am unable to sleep because my mind is still motoring.
It was a very calming and relaxing day with lots of very gentle exercises that were extraordinarily effective and a healthy lunch provided between the two sessions. There were also some extremely interesting discussions regarding current thinking on some traditional postures. Everyone came away with something they could work on in their daily practice.
We hope to be able to host Howard at Shambhala Studios again in 2011.