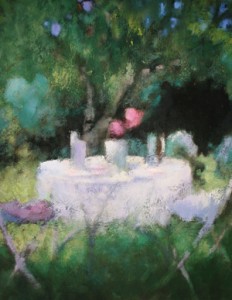 Our Sivananda teacher, Kerry Doyland, is a regular exhibitor in Leigh Art Trail.
This year, Shambhala Studios is also taking part and we are proud to host Kerry's exhibition of some of her recent sketches and oil studies, including Summer Day (pictured left).
The trail starts this Saturday 11th and runs until Saturday 18th and we are venue 37.
Leigh Art Trail is in its 15th year and a big part of the Leigh-on-Sea calendar.
We should have some lovely sunny days during the week, and it's a fun thing to do while strolling around our wonderful town.
Follow the route which, this year, also includes a Food Trail for a relaxing and refreshing stop-off between venues.