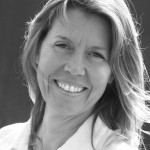 I discovered the joys of yoga 19 years ago and soon found that Sivanada yoga – in particular – suited me perfectly. At the time I was physically and emotionally spent. I was suffering from chronic fatigue and painful rheumatoid arthritis triggered by work-related stress and bereavement. I knew that I needed to find a way to mobilise my body and relax my mind. I discovered that gym or aerobic-based exercise was too exhausting and that the natural chemicals that it released were too adrenaline fuelled.
As with all things that are meant to be, I stumbled on a yoga class and knew that I'd found my way back to good health. My first yoga teacher was a gem, but moved to France to start a yoga spa there. It took me a long time to find another class that gave me the same feelings of bliss that this first one had, but eventually I did and it felt like I'd come home!
Sivananda yoga helped me rediscover the joy of moving around in a healthy and very mobile body, and the bliss of enjoying the more creative and calming emotions of my mind. I did my own teacher training almost 10 years ago, in the hope that I could pass on this positive energy to some of my own students.
My evening classes at Shambhala are based around the main yoga postures, always include some relaxation (candlelit in the winter), and will send you home feeling more alive in your own body, and ready for a good night's sleep. They are suitable for any level of experience, and even complete beginners, as you will work towards your own body's potential.
Every combination of yoga style and teacher will create a different energy, and so if you've tried yoga before and thought that it wasn't for you, you might find that a different combination of style and teacher hits the spot. At Shambhala there are so many styles and teachers that I'm sure if you try a few, you will find the one that fits. No yogi is ever disappointed to lose a student to a class that suits him or her better …. It is how we all found our own path.Om Shanti (Universal Peace).