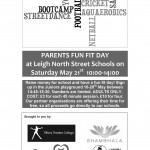 In conjunction with Essex Boot Camp, The Tiffany Theatre School and LNSSPA, Shambhala Studios are delighted to participate in a Parents Fun Fit Day at Leigh North Street Schools on 21 May 2011 from 10am until 2pm
The event is aimed at Adults Only and will include Bootcamp, Streetdance, Football, Cricket, Salsa, Netball, Aquaerobics and Yoga – each Workshop will last for 45 minutes and costs £3 or £10 for four. All partner organisations are offering their time for free in order to raise money for the Leigh North Street schools.
Sign up in the Junior School playground between 2.45 and 3.30pm any day during the week 16-20 May.