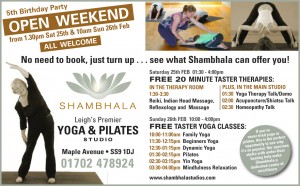 5TH BIRTHDAY OPEN WEEKEND!!!
On the weekend of Feb 25/26, Shambhala Studios will be celebrating their 5th birthday with a suitably holistic party.
No need to book, just turn up and see what Shambhala can offer you.
This is a perfect opportunity to sample different types of therapies, pilates and yoga – go on treat yourself!
FREE THERAPY TASTER SESSIONS
Saturday 25 February
In the Therapy Room
13.30-15.30 Reiki, Indian Head Massage, Reflexology and Massage
In the Main Studio
13.30 Yoga Therapy Talk/Demo
14.00 Acupuncture and Shiatsu Talk
15.30 Homeopathy talk
FREE YOGA TASTER CLASSES
Sunday 26 February
10.00-11.00 Family Yoga
11.30-12.15 Beginners Yoga
12.30-13.15 Dynamic Yoga
13.30-14.15 Pilates
14.30-15.15 Yin Yoga
15.30-16.00 Mindfulness Relaxation
Come and help us to celebrate – No need to book!