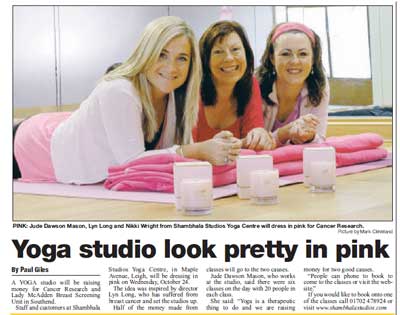 A Yoga Studio will be raising money for Cancer Research and Lady McAdden Breast Screening Unit in SOuthend.
Staff and customers at Shambhala Studios in Maple Avenue, Leigh, will be dressing in pink on Wednesday October 24.
The idea was inspired by director, Lyn Long, who has suffered from breast cancer and set the studios up.
Half of the money made from classes will go to the two causes.
Jude Dawson Mason, who works at the studio, said there were six classes on the day with 20 people in each class.
She said: "Yoga is a therapeutic thing to do and we are raising money for two good causes.
"People can phone to book to come to the classes or visit the website."
With thanks to the Yellow Advertiser for allowing us to reproduce this photo and article both here and on Facebook.
Visit the Shambhala Studios Facebook page at https://www.facebook.com/ShambhalaYogaAndHealth