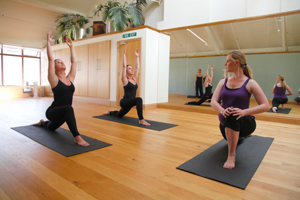 Now that we're back in September and the school routine is back in full swing, it's a good time to remind you of our Yoga Classes For Teenagers with Caitlin Maskell on Wednesdays from 5.45pm to 6.45pm.
A class especially for teenagers. It includes breathing technniques, postures and relaxation- all that's needed to help you deal with everday life and exam stress.
These are relaxed classes where we will often do partner poses and classes are adapted according to the needs to the teenagers attending.
The Yogis and Yoginis who currently attend are all extremely positive about the effect the classes have on their busy schedules. They particularly like the relaxation and visualisation part at the end of classes.
They also love having a time in their busy weeks where they can just relax and have time for themselves. One girl enjoys teenagers Yoga so much that she recently chose to have a personal Yoga party for herself and her six friends. She wanted her friends to see how fun and beneficial Yoga can be. They had a lovely time and thoroughly enjoyed taking part in group and partner poses and challenging themselves to try new things.
Some teenagers who attend are there as it complements other sports that they take part in; they find that it stretches and eases their muscles after more dynamic sports.
Teenager yoga is on Wednesdays 5.45pm-6.45pm. Call 01702 478924 to book your class.