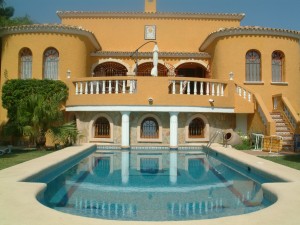 Yoga has become a popular method of destressing, both for busy executives and stay at home mums but the ultimate way to practise has to be a yoga retreat… and if you ask most yogis they would add the proviso preferably somewhere warm like Spain.
But others would ask why one would want to trek abroad when yoga retreats are readily available within a relatively short car ride.
Well, just as Bikram or hot yoga is thought to help the body sweat out toxins and allow the practitioner to safely come deeper into the poses or stretches, practising in a warm climate can have similar benefits.
And, whether you're doing Ashtanga, Hatha, Sivenanda or any of the many other yogic styles, it is much nicer to actually perform your Sun Salutations to the warm glow of that celestial body than the pale shadow of its potential glory or the haze of clouds that we see more often than not here in the UK.
Again, yoga under the stars can be a less than exciting prospect in the lower temperatures offered by our own climate, but in the warmth of the Mediterranean becomes imbued with its original mystic union with nature – especially when accompanied by the background noise of waves lapping onto a nearby shore.
The climatic consequences of yoga retreats closer to home tend to necessitate that most aspects of the break are conducted indoors. In the balmy temperatures of the Spanish mainland, both practising and any relaxing therapies can be done al fresco, interspersed with detoxing meals that don't leave one craving additional carbs just to stop shivering.
Many retreats focus on aspects of yoga that don't tend to be addressed during regular classes because of time constraints – particularly those involving breathing and its effects on circulation, improved fitness levels and detoxifying the body.
Being slightly more costly than their UK-based counterparts, luxury retreats in the sun tend to have a smaller ratio of students to teachers, allowing for a much more personal tuition experience and promoting the social side of yoga as students compare and contrast experiences and the teachers share their own solutions.
The exotic scenery and sun-drenched patios overlooking the bluest of seas promotes a 'holiday' frame of mind, which combines with the yogic calm to produce an energising and revitalising feeling that is much harder to achieve within the familiar surroundings of the UK.
The opportunity to be taken through a guided candlelit meditation before bed is taken to the next level when it is conducted outside in a darkness that is not punctuated by the noise of traffic on the nearby main road or the knowledge that you have to put the bins out when you get home. And we haven't even touched upon the calming rhythm of the buzzing cicadas as you drift off to sleep.
Yes, suddenly going abroad for a long weekend yoga retreat becomes a much more attractive proposition.
Visit our page about luxury Yoga Retreats in Spain and find out more about the ultimate Yoga Holiday from Shambhala Studios