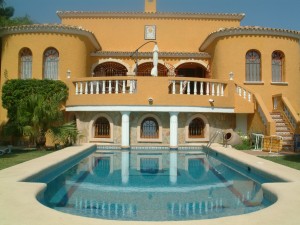 "SPRING INTO SUMMER"
THE SHAMBHALA YOGA AND WELLNESS RETREAT
13TH -16TH MAY 2011
IN DENIA, SPAIN
Limited to ten guests only, our exclusive yoga weekend retreat comprises 3 nights and 4 days and will be hosted in two beautiful mountain-side villas with turquoise pools overlooking the coastal result of Denia.
With up to four yoga sessions per day, interspersed with specially prepared al fresco meals based on a mild detox diet, this is a wonderfully luxurious and revitalising break that will see guests saluting the morning sun and enjoying a relaxing candle-lit meditation before bed.
Everything included your transfers to and from Alicante Airport, the meals, the yoga sessions and the welcoming pedicure on arrival. Your stay in one of these fabulous villas, based on two people sharing each en-suite bedroom is just £640 per person.
Flights are not included so for advice on suitable flights and to book your place on this wonderful and revitalising break, call us today on 01702 478924 or e-mail wellbeing@shambhalastudios.com
To find out more, visit our Retreats page.
Om Shanti
From Lyn, Claudia, Grace and Kerry
Your Retreat Yogis at Shambhala