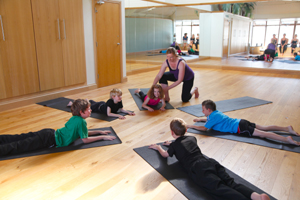 Our Yoga Classes for Children take place on Wednesdays from 4.45pm-5.30pm with Caitlin Maskell
This class is a fun and engaging way of introducing yoga to children aged 7 to 12 years. It incorporates traditional yoga postures, games and partner work. Classes are physically challenging and mentally stimulating.
Children will be guided through postures, breathing exercises and relaxation techniques. These classes will encourage children to feel calm and energised, improve their strength, flexibility and balance and develop self-awareness, focus and concentration.
Children's Yoga is becoming very popular at Shambhala and parents often give me feedback on how much their children are enjoying the classes and are always practising their breathing and poses at home. The children enjoy the variety of the classes as I always incorporate games, breathing exercises, individual, partner and group poses and a relaxation at the end.
The classes always follow a theme i.e. Deep Sea adventure or Travelling around the world. The children enjoy being involved in choosing themes and ideas for new Yoga adventures.